My power colour is Purple.
After jamming out on some local co-op with a friend -- me on the mouse and keys, he on his gamepad...
My friend: "Wouldn't it be cool if you made Magicka Robes?"
Me: "Wouldn't it be cool if I made Magicka Bathrobes?"
And so it began, I got in touch with Arrowhead Game Studios and they passed me along to Paradox Interactive. They were so excited and supportive of the idea, it just had to come true. I eagerly began the creative process...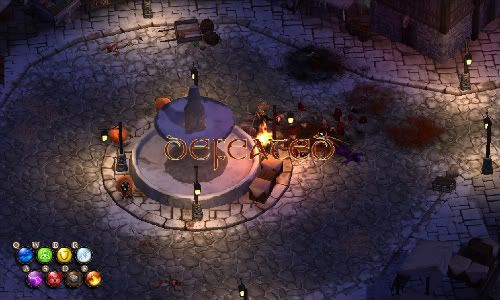 Serious research.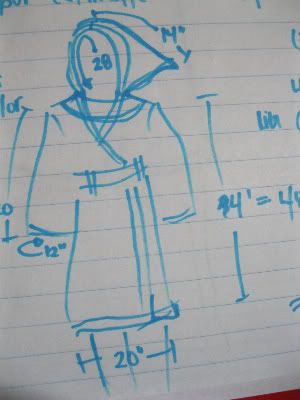 I doodled around with measurements as I was put on hold for various fabric and dye quotes. Apparently it was pretty difficult to find suppliers that had all four colours available to order... to my surprise, one of the major terry cloth suppliers in New York didn't even have yellow.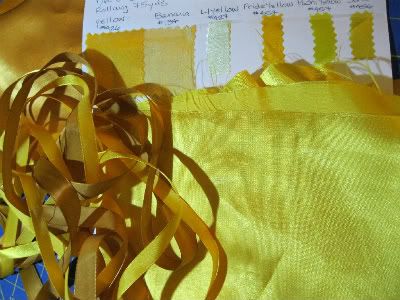 This charmeuse isn't yellow enough!
I struggled with colour options, hues, and textures. Perfection is my aesthetic, and I was absolutely obsessed with making the robe so true to the source yet wearable.
My shipment of bright red terry cloth arrived in the mail a couple weeks later. And I mocked up a hood, originally hemmed... I was going to set the trim about a half inch from the hem.
Scrapping that idea with a triple fold biased charmeuse, I proceeded with the body of the robe. I wanted it to be full-length about 53", but once I had it up on my dressform it seemed too long. The proportions were more fashionable to me at a shorter length... so I trimmed the last eight inches off the bottom in an up-working-until-4am-because-I'm-awesome-like-that haze. I used that excess fabric to make the collar... before it was just a robe, once the collar was added it would be a Magicka robe.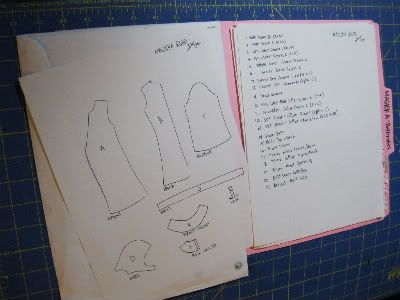 Pattern pieces all filleted out.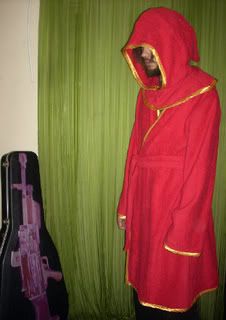 Over a month later and after several midnight emails to Sweden it was done, like MAGICK -- minus the spell casting, instantaneous appearance of certain elements, and explosions. (Random Note: I have decided that 'Midnight Emails to Sweden' would make a great band name.)
I've really enjoyed getting all your emails about the robe! To answer some of your comments about them I've compiled this list:
-Unfortunately the robes do not come with sausages.
-The coupon code BANANA does not give you a special discount.
-I am making a purple robe for myself, but for now they're only available in the four colours.
Pre-Orders end on Monday 04/11, you can grab one
here
.
Follow my
Twitter
and
Facebook
for updates, pictures, and news on the progress and production process in the coming weeks XD